Tuesday, 09/24/2013 - 17:06
Ways to plan budget vacation in Sapa
Everybody likes to get some luxury vacation. Enjoy every 5 stars amenities and services. But the fact is not all of us have enough money to get all the luxury things. Most of us has limited budget to spend on vacation. The fact is how to plan a cheap vacation or no vacation at all. The term cheap vacation is not meaning you can't have some fun on your vacation. It just means that you have to smarter with your money. Use your money wisely. Get a simple life on your vacation. These are some tips to make enjoyable budget friendly vacation...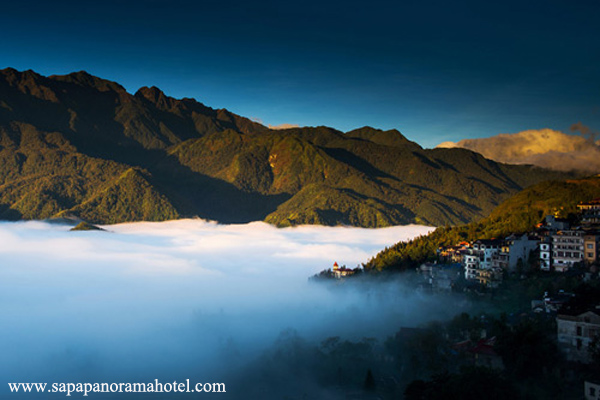 Sleep at budget hotels or family run hotels: There is no lack of cheap accommodation in Sapa. These affordable yet comfortable hostels and mini hotels which can be found easily in the town. Do not think budget hotel is somewhat dirty or lack of facilities. Absolutely wrong! Most of budget hotel in Sapa are run by family (Sapa Panorama Hotel for an example), and meet all necessary conditions when staying there. Even some budget hotels are equivalent to 2 or 3 star hotel standards. You can sleep in a private room and spacious and comfortable room with a view no less for as little as $6 per person! With such a good range of hostels, you can forget about the expensive international chain of hotels. Otherwise, stay overnight at home stay in some ethnic minority villages surrounding Sapa town is not only a good idea for you to save your shoestrings but also an interesting experience when traveling to Sapa.

Eat Local: As tempting as they may be, try not to fall for " The Great Australian breakfasts" in Sapa. They may remind you of home but they can cost as much as your accommodation - $9! Eat at local food stalls instead. It is worth taking the time to venture out to the back roads to look for local semi-restaurants" that serve dishes you at a fraction of the price.

Take a Walk: The best way to get around Sapa is on foot. If your next destination is not within walking distance, buy group tour itineraries from any local tour operators in the town. These options are way cheaper than the others offered by travel agencies in main cities. Another option is the moto taxi or "xe om". This is an informal type of transport where local bikers drive you to your destination on their motorcycles or if you have motorbike driving license you can hire a motorbike and self-drive it. It is a cheap, fast and fun way of getting around.
Travel in the off season. Many people think that travelling to Sapa in the off season that can be taken a bit of a risk like bad weather or hotels are closed for renovation and retooling. However, the fact is not like that. Especially, if you travel to Sapa from September till the beginning November you will be not only rewarded with the blue sky, enjoy magnificent terrace paddy fields but also experience a number of traditional festivals. This is also the time most of hotels in Sa Pa will be looking to fill their rooms with discounts and upgrades, especially if you're going on a special trip like a honeymoon.

Finding good deal on online hotel reservation. In recent years, making online hotel reservation in Sapa is getting more popular with both domestic and international tourists. By doing this way you will know the price you are going to pay and the availability of rooms will depend a great deal on when you are traveling. Otherwise, it may also be a good thing to ask relatives, friends and others if they can recommend a good hotel in your area of interest. You probably won ever know if someone hated or really enjoyed themselves at a specific hotel. If you are always travelling or staying in hotels, you can start using reward points that can be applied to hotel reservations. If you collect enough points, you might be able to get a free hotel room once in a while. This is a way for people who travel a lot to not spend as much money.

These had been some cheap vacation ideas for travelers. In case you plan your vacation well in advance and do the necessary preparations and research, you are able to find budget vacation ideas right for you. There are numerous cheap vacation packages which are especially formulated for budgeted travelers and you ought to try to avail them.