Thursday, 09/05/2013 - 20:54
Vietnam tourism should have people like Running Man
Tourism expert Florian Sengstschmid said that: "The image of the "Running Man" makes international friends relating to Vietnam as the great land that is worth of exploring".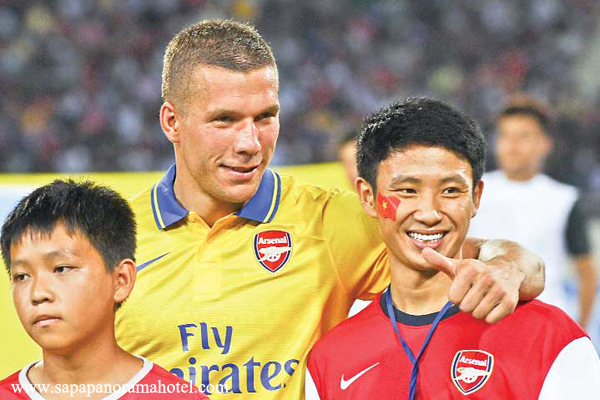 Mr. Florian Sengstschmid, an expert of the ESRT project (tourism capacity development in responsible ways with society and environment funded by the EU) expressed the impression of "Running Man" Vu Xuan Tien at the conference on Vietnam tourism brand positioning that took place early this week in Hanoi, with the participation of 200 domestic and foreign delegates.

"In Azerbaijan, I was impressed to see the national television broadcaster reported on the "Running Man." The media of many countries also reported heavily on this character. I think the image of a Vietnamese boy running with passion will make the viewers think that Vietnam is a great place, with great people, and worth to be explored. Vietnam tourism should have such images and highlights," the experts said.

Many participants said that Vietnam should choose a strong point to build the brand for, such as Ha Long.

Director General of the Vietnam National Administration of Tourism (VNAT) – Mr. Nguyen Van Tuan, said that the brand is particularly important in contributing to the competitiveness of tourism in Vietnam in the new development period. "Brand building has really been focused as the mission and the goal of Vietnam's tourism development," Tuan said.

Sengstschmid emphasized that branding is of great importance for the development of tourism and Vietnam tourism needs to have specific spotlights to attract more tourists, in particular the case of the "Running Man" Vu Xuan Tien.

After running after the bus of Arsenal FC in Hanoi, "Running Man" Vu Xuan Tien was invited by this club to the UK to watch football. His image was transmitted to 25 countries and received a lot of support.

Mr. Vu The Binh, Chairman of Vietnam Travel Association, wanted to focus on more specific tourism products. He said Vietnam has too many small and medium sized tourism businesses that cannot afford to make good brand and the unhealthy competition between them is rampant, affecting Vietnam's tourism image.

Binh also noted a matter of concern of the country's tourism industry – that is a loose affiliation of parties. He cited the case of Travel Life that abandoned 700 tourists in Thailand in June. "How could they bring 700 people traveling abroad but nobody knew? Then where were the authorities and the police?" Binh questioned.