Wednesday, 09/11/2013 - 08:42
Hill tribe markets
Hill tribe markets are the most colorful weekly event of hill tribes. Flower Hmong, Dzao, Tay, Nung tribes...they come to the market not only to buy or sell but mainly to sip wine which is believed to symbolize for friendship and connection. Each market brings a very single beauty. This is truly a rendezvouz for those who wish to experience more about tribe life and some ancient activities.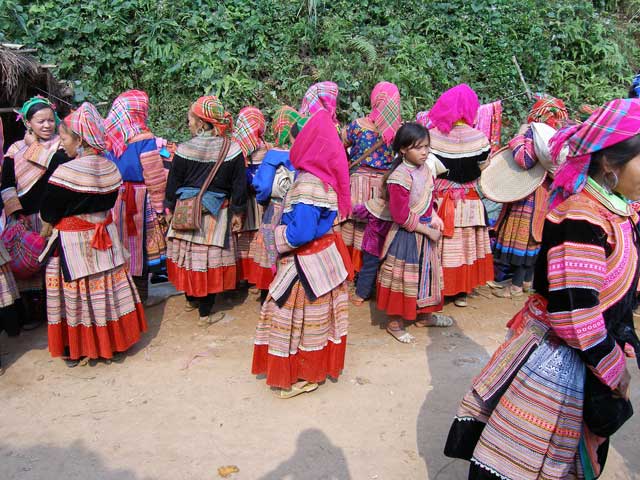 Muong Khuong market on Sunday:
Beautiful, colorful Sunday Market of the hill tribal peoples living around Muong Khuong Town let with festive atmosphere. Meeting to hill tribal peoples such as: Flower H'mong, Black Zao, Nung, Pa Zi and Tu Zi,... Living along the border district of Muong Khuong.
Magnificent and stunning landscapes of the bordering Muong Khuong District, Lao Cai with lush farm land, tea and pine plantation.

Bac Ha market on Sunday:
Bac Ha market is well-known for its naturally sub-tropical scenery. Tam Hoa plums are really a local specialty: sweet and fresh. This seems to be created by its own land, people and nature.
Average temperature here is 19°C and it's not so cold as in Sa Pa. Bac Ha is specifically identified by each mount, each house and naturally-made carpet of white plum-flowers in spring. There are 14 ethnic minorities and the Mong ethnics count for 47% then the Dao, Tay, Nung, Phu La... Mountaineers take care of their horses as their properties, means of transport and close friends.
Besides plums, Bac Ha is reputed for its alcohol (made of maize). Maize is grown on high mountains, its low in productivity but high in nutrition. To make alcohol, it's fermented with Hong My seed (the local only plant). Bac Ha alcohol is well-known due to its source of water. So it's surely believed never to have faulted one in Bac Ha market. Visitors can see the locals selling their own alcohol without feelings to be cheated.

Brocades are for sales in the market or in shops or by street-vendors. There are hand-made or manufactured products. It takes a village-girl even half a month to make a brocade of 20cm long. Their skirts or costumes cost them long time to make. Their dresses express their patience, skills. Visitors can see the girls making brocades right in the market.
Traditional values and identities are well-maintained in the market. Such markets as Bac Ha, Coc Ly have really become rendezvous for visitors at home and abroad. There is almost no bargaining or competition here. Sales girls look quite naive, sincere. They go to the market mainly to meet people and exchange funs. Especially, there is a horse market in town-centre, each market-day there are almost 100 - 200 horses for sales or exchange.
Mong or Tay or Dao ethnics' minority girls and boys, with their best dresses on, go to the market to relax and meet their friends. At sunset, they leave with a promise to see again.
Visitors to Bac Ha are opportune to understand the local traditions and customs, taste local specialties, meet nice people and know a land code-named: white plateau.

Muong Hum market on Sunday:
As the same several interest market around the North of Vietnam. Muong Hum market is about 70 km along the Red- river and border line with china. You will have the opportunity to experience spectacular scenery and more interesting to visit Muong Hum Market where some ethnic minorities come down from the mountains once a week to buy and sell household products, animals, to drink rice wine, corn wine with friends to enjoy their simple life. You will never have to be regretted to visit here. Beautiful time in life!

Coc Ly market on Tuesday:
It is the colorful market in a mountainous area where the Flower H'mong mainly gathers to exchange their homemade products.
This Tuesday market is about 35km from Bac Ha. You can get here via a fairly good road, or by road and river; hotels in Sapa and Bac Ha can organise trips. Coc ly is a small village on the Chay river inhabited by the Flower H'mong Minority people. The Flower H'mong traditionally wear a distinctive and bright coloured costume. They are a gentle, softly spoken people who live in the steep mountainous country close to the Chinese border. Because Coc Ly is more remote than Sapa, the dress and way of life is more traditional than in the large centers. The market deals in fruit, vegetable, pork and chickens, in addition to colourful fabrics and items of traditional dress. There is a buffalo sale in progress and many of these placid animals are tethered close to the market. Buffalo are still widely used in the growing process, especially in the mountainous regions. Horse are an important form of transport in the North West and a quite a few, sturdy ponies were tied to tree around the market. The horse carry a light timber frame on their back to carry produce to and from the market.

There's no dancing or singing, but Coc Ly Market in Lao Cai Province always turns colorful and festive on Tuesdays, when ethnic people gather there to buy and sell goods, dine and drink, or just wander to enjoy the ambience of the montagnard market.
Many ethnic traders from Bac Ha and other parts of Lao Cai Province dress up in colorful costumes and bring horses, chickens, buffaloes, vegetables or whatever they can sell to the festive market in the wee hours, and will not return home until 1pm.
Certainly, what catches the eyes of visitors most are the different colors of the costumes worn by ethnic people and the handicrafts they sell at the market, about 50 kilometers from Lao Cai City in the northern province.
You can see young and old Hmong women, wearing skirts and hats with different types of embroidered flowers, crowding the market during the opening hours of Coc Ly. Scarves, clothes, decorations and other items made of tho cam (ethnic fabric) on sale also add color to the bazaar by the Chay River.
The colorful items are put on sale not just for locals but also tourists, particularly foreigners. However, you should remember to bargain when you want to buy your favorites, and the items at the booths located at the start of the path you walk on always have higher prices. Keep walking toward the end of the traditionally ethnic market until you find a real bargain.
A good idea is to stroll every corner of the once-a-week bazaar as you listen to unexpected conversations, see nice surprises and learn how ethnic people sell and buy farm produce, life's necessities and other things.
After visiting the market, which is the most fresh and unspoiled market of the region, offering a wide range of different colorful ethnic minorities such as Flower C'mon, Black Dao, Tay , Fula, Lachi, Sandui and Nung....there will be an exciting boat cruise winding you through a breathtaking, out of this-world landscape where the mountain grow from water presenting their most hidden mysteries, including caves and tiny minority ...A picnic lunch box can be prepared for your most convenience..

Cao Son market on Wednesday:
Cao Son is the most stunning part of Lao Cai province. The wonder of Cao Son is ever inspirational with mild weather, authentic culture of local hill tribes, spectacular views toward lush valleys and mighty Chay river.

Lung Khau Nhin market on Thursday:
Taking place every Thursday, Lung Khau Nhin Market is a small market hiding itself amongst the mountains and forests of the far north Vietnam about 10 km from the border with China. Although not being so big or famous among visitors as Coc Ly and Can Cau, Lung Khau Nhin market, be side a normal shopping place, play an important role to spiritual life of local ethnic peoples Flower H'mong, Black Zao, Zay, and especially to those who come from very small ethnic groups such as Pa Zi, Tou Zi, Tou Lao who live in small and isolated villages around this corner of the country, come for meeting, socializing...

Pha Long market on Saturday:
Saturday morning from 6 a.m. to twelve. Very rural seldom visited market, where you can meet ethnic groups that are only found in this particular district of Vietnam, mostly Hmong, Nung, Tou Zi, Pa Zi and Tou Lao. Along the road, in a landscape of mountain peaks, numerous Nung et Hmong villages. Lots of traditional houses with baked earth tiled roofs.

Can Cau market on Saturday:
Cancau market is one of Vietnam's most fascinating open –air market, and isolated market which takes place only on Saturday every week. This is a lovely local market which still retains the local quaint and authentic being of the main tourist route. The areas is close to China border and in a hidden place, less visitors come here. - Horses, dogs, cat, pigs and textiles.... all on sales! This is of most amazing market you've ever seen. Opportunity to takes best photos!