Motorbike For Rent in Sapa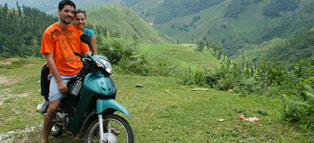 For the people want to travel by themselves in Sapa and surounding areas, the best way to do it is renting a motorbike. Would you like to rent a a motorbike or take a guided motorcycle adventure tour?
Everyone should motorbike Vietnam. The country is too scenic to travel any other way. Motorbikes are also a way of life in Vietnam. They are how most people travel.


Rent A Bike at Sapa Panorama Hotel offers a variety of quality motorbikes from Honda, Yamaha:
Well-maintained name brand motorbikes
Gear and accessories
Hassle-free help in English and Vietnamese
Low prices
If we do not have the bike you would like to drive then let us know and we'll see if we can get it for you. All motorbikes are are regularly serviced for free. We can also help if you have any troubles whilst on the road.
To rent a bike the lessee needs to leave a deposit in cash (Dong, US$, or Euro). The amount depends on the type of motorbike. This deposit will be refunded when the lessee returns the motorbike. Alternately, we can retain your passport and provide you with a copy of your passport and visa, along with the stamped rental agreement to prove that we are using it as a deposit which you can show to hotel receptionists upon check-in or when necessary.
In any event, we always try to be flexible in our dealings, and we can make an arrangement that works for both parties.The lessee is responsible to pay all repair expenses in the event of any damage to the bike, and to pay fair value for the motorbike if it is lost or stolen while in the lessee's possession.
Our Hotel provides free maps of Vietnam and flyers describing many possible road itineraries, along with info on hotels, village homestays, and driving directions.
For automatic motorbike
Duration
Including fuel
Excluding fuel
01 day
US$12
US$8
Half day
US$8
US$5
For motorbike gear-box
Duration
Including fuel
Excluding fuel
01 day
US$10
US$7
Half day
US$7
US$4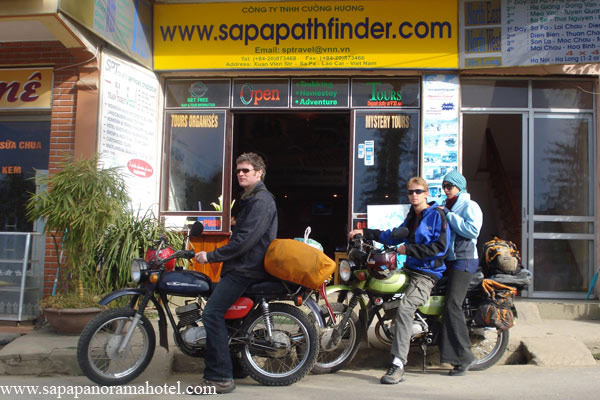 Please register with us today, let us prepare the journey for you! Please call to
Mr. Quyet

(+84)916 725 787,
or by sending us an
email:info@sapapanoramahotel.com
to make a reservation with the best price!