Best Sleeping Bus To Sapa with Sapa Express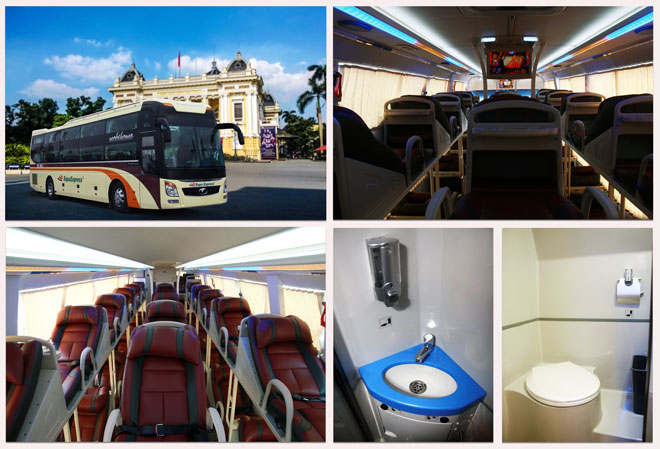 With Sapa Express Bus you are served by English speaking tour guide whole trip from Hanoi to Sapa and back. We offer a group of modern Universe Noble, Luxury buses with big sized & soft sleeper berths supported by an excellent sound system with DVD providing you information of Sapa. You are offered free bottles of water and tissues on the bus. With our experienced and thoughtful drivers, you will be safe to discover Sapa with unforgettable experience.

Bus Hanoi Sapa (32 beds 2 ways)
[ Duration about 5,5 hours ]
22:00 Departure from Hanoi, No.12 Ly Thai To street
03:30 Arrival Sapa town, stop at our office No.02 Cau May street - Sleep on the bus until 06:30 AM.
1. Itinerary Round-trip
Hanoi - Sapa (departure date)

21:30: Free pick up at your hotel in the Old Quarter of Hanoi and transfer to Sapa Express' Office, No.12 Ly Thai To street.
22:00: Departure to Sapa. The tour guide will explain to you about the trip and Sapa. Then you will be served mineral water and some snacks.
23:30: Have a rest-stop at Km57 for 30 minutes, here if you need extra refreshment, and that allows you to go to toilet also.
02:30: For the safety before going up mountain pass to Sapa, stop within 15 minutes at Km237 for the second rest-stop.
03:30: Arrival Sapa town - stop at our office, No.02 Cau May street.
Sapa - Hanoi (return date)

15:00: Pick up at our office, No.02 Cau May - Sapa.You can leave your luggage at Sapa Express' office and get your bus detail. Here you can have some coffees or drinks while waiting for the bus.
15:30: Departure to Hanoi. Once again you will be informed about the itinerary and provided water and wet tissue by our tour guide.
16:30: After the mountain pass of Sapa, have a rest-stop about 15 minutes at Km237 Station.
18:30: Second rest-stop at Km57 Station for 30 minutes.You can have lunch here or if you need extra refreshment, and rest room also.
20:00: Our bus will pass Noi Bai domestic and international Airports where you can get off the bus. ( Nearby Airport gate around 2 km from High way )
21:00: Arrival Hanoi and stop at No.12 Ly Thai To street.
Our staffs will help you to take back your luggage from the bus and call taxi or help you to find the way to your hotel in the Old Quarter.
2. Facilities
- Sapa Express Night Bus, the Luxury Soft 32 Beds desinged by South Korea, is called "Mobi Home on the ground" in business class.
- English speaking tour guide on board
- Air-conditioner.
- Wifi.
- Wet tissue, mineral water.
- Travel blanket and pillow.
- Bread and some snacks on board.
- Toilet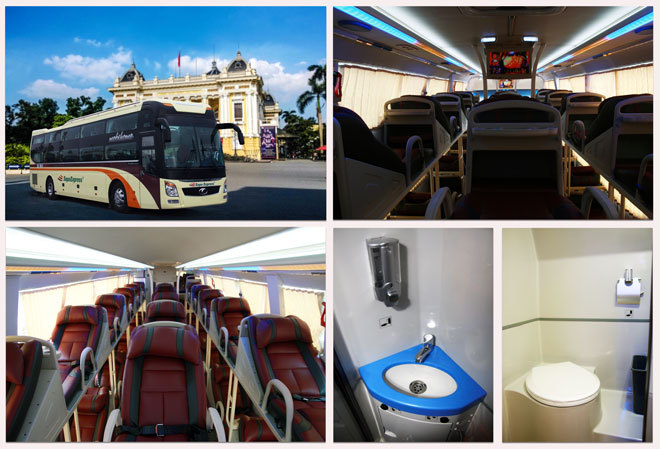 3. Note
- 30% surcharge on holidays.
- Children under 5 years old are free (shared seats with parent)
- Children over 5 years old are charged as adults.
4. Accept payments


Schedules (Best quality bus departures Hanoi - Sapa - Hanoi)

Route

Departure time

Arrival time

Hanoi - Sapa

22:00 PM

03:30 AM

Sapa - Hanoi

15:30 PM

20:30 PM

Ticket price

15 USD

15 USD
Please Contact for Reservation:
Hot-line:
+84 918 324 535
Email:
booking@sapapanoramahotel.com