Friday, 09/27/2013 - 18:30
Hoang Lien National Park
Hoang Lien National Park is located in territory of Sa Pa town of communes: San Sa Ho, Lao Chai, Ta Van, Ban Ho of Sa Pa district, a part of Van Ban district – Lao Cai province and two communes Muong Khoa, Than Thuoc of Than Uyen district – Lai Chau province. This is an ideal eco-tourism suitable for scientific research.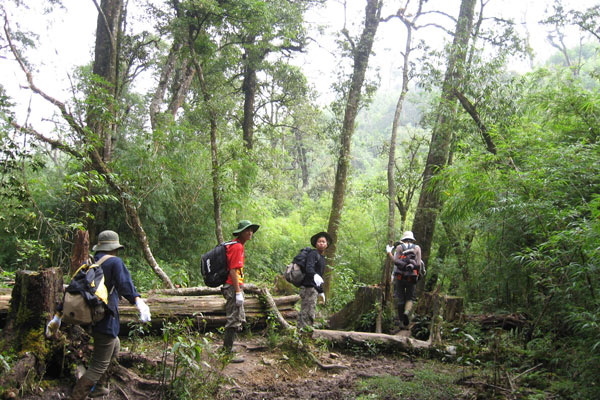 From Sapa town passing through a winding ramp of about 20km, visitors shall come to O Quy Ho – Hoang Lien pass in territory of the National Park. Continue going along the trail winding around mountain at elevation of over 1,000m above sea level, visitors will see overall landscape of mountain and forest here – a forest of vast trees covering with golden sunny strips that looms each flap of azalea, forest orchids, plum … which are blooming together; distantly, villages of ethnic minorities are hidden among thin mist…

Hoang Lien National Park – one of the important special-use forests of Vietnam – has total area of ​​29,845ha, including a high mountain system of Hoang Lien Son range, in which the Fansipan peak is of 3,143m high and the buffer area is of 38,724ha, consisting of Sa Pa town, some communes in Sapa district, a part of Van Ban District – Lao Cai province and two communes in Than Uyen district – Lai Chau province. Hoang Lien National Park is mainly primary forest with mountainous tropical vegetation and diversified fauna system.

As for flora system, there exist here over 2,000 species of plants typically as Bo tree, azaleas, plum…, of which about 66 species are recorded in Vietnam's Red Book such as blue cypress, bamboo pine, red pine…, 32 rare species such as blue cypress species distributed limestone mount of Ban Ho commune (Sa Pa), red pine species found in Sa Pa town (Sa Pa), Van Sam Hoang Lien distributed in core area of ​​national park (such three species are main materials used to extract a variety of rare medicines) and hundreds of precious herbs. Besides, several ancient mushroom species were also detected here distributed mainly in the high mountain areas of China and Vietnam.
Besides a rich forest flora, the fauna system is also diversifying with 66 species of mammals, popularly such as black gibbon, silver cheek langurs…, of which 16 species are listed in Vietnam's Red Book; 347 species of bird such as large-spot eagles, red-crested pheasants…; 41 amphibians and 61 reptile species including rare spike frog ones recently found in Vietnam.

With such diversifying forest ecosystem, Hoang Lien National Park is considered one of the top biodiversity centers of the country. Particularly, this place also preserves and maintains numerous beautiful features of traditional culture of ethnic communities living in core and buffer zones of the National Park; that is singing and dancing activities of Mong, Dao, Giay people with musical instruments such as praise, flute, trumpet, Jew's harp; housing architectures of ethnic minority.
Coming to Hoang Lien National Park, visitors are treated an attractive ecotourism environment. Here visitors may feel the moment of season change between spring – summer – autumn – winter within 1 hour; enjoyed the sunlight through the dense foliage of leaves, through the foggy mist down on lush grass carpets; sightseeing swaying clumps of low bamboo in the wind… all leave deep impression for tourists, but perhaps the most impressive is the sense to sleep overnight on mountain halfway to merge in imposing nature of Hoang Lien Son range, listening murmuring sound of streams, the impetuosity of waterfalls… and in immense space, one may feel so small. Additionally, visitors can also participate in village tours: come and stay at home of ethnic people, together with the host do the house works and gather at community hall in the evening for cultural and singing, dancing exchange. Tourists may participate in traditional sports such as pushing sticks, archery, tug, walking on stilts… or visit the villages, rice mortars, and terraced areas… of the ethnic people. Particularly, here also hosts the climbing prize "Conquering Fansipan" of national scale for domestic and abroad athletes. This prize aims to introduce to tourists inside and outside the country of Hoang Lien Son mountain range with Fansipan peak – the roof of Indochina, introduce Sa Pa resort and Hoang Lien National Park – a park of ASEAN heritage.