Thursday, 09/05/2013 - 17:57
Discover terraced field in its harvesting season in Sapa
In September, tourists often rush to Sapa to discover the beauty of the terraced field in its harvesting season. They often stop by the fields, taking pictures and watching the endless view of the beauty.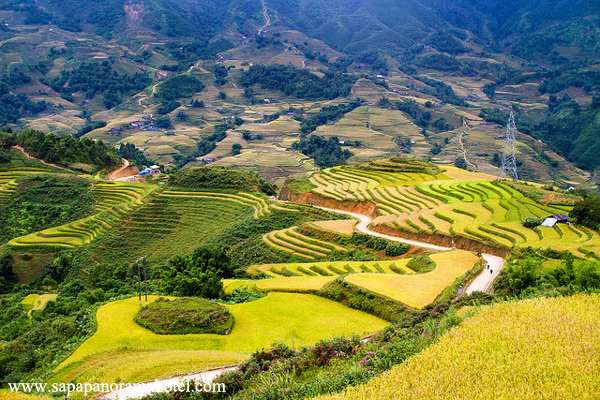 Mr. Hong, student from Hanoi, said he loves biking to Lao Cai at weekend with friends to take pictures along the 4D national road. They can see the terraced field of Mu Cang Chai (Yen Bai), Sapa, Y Ty (Lao Cai province), and Hoang Su Phi (Ha Giang province). These are the best terraced fields in Vietnam, and they have been recognized as the national landscapes. Sapa's terraced field is also voted to be one of the top seven most beautiful fields in the world.
Especially, the terraced field in Y Ty attrach many people from Sapa to O Quy Ho Pass or from Lao Cai city.
The journey is quite hard and tired but visitors could see the dreaming beauty of the terraced field on the height of 1500m above the sea level under the Hoang Lien mountain range. That would satisfy the taste of anybody.
Discover terraced field in its harvesting season in Sapa with
Sapa Panorama Hotel
to get big promotion.