Sunday, 10/06/2013 - 07:18
Vo Nguyen Giap, renowned Vietnamese general, passes away in Hanoi
General Vo Nguyen Giap, who has aged 102, was the diminutive and brilliant Vietnamese general who led communist forces in the wars that forced three powerful adversaries – Japan, France and America – out of his homeland.
The Vietnamese military commander and national folk hero who organized the army that defeated the Japanese, the French and then the Americans in 30 years of Southeast Asian warfare died Oct. 4 at age 102.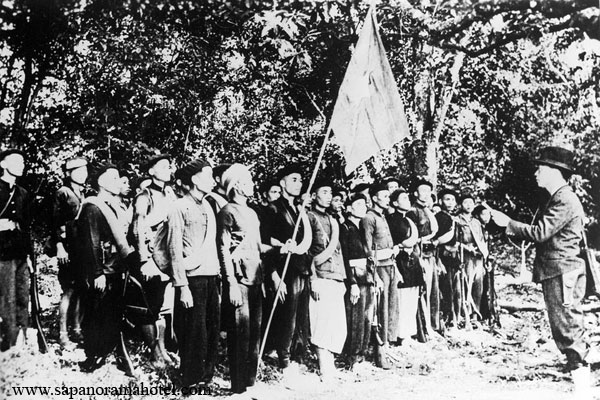 Dec. 22, 1944

Gen. Vo Nguyen Giap, right, reads the first military order to the newly founded, 34-member Armed Propaganda Unit for National Liberation, which would later become the Vietnam People's Army, in Vietnam's Cao Bang province. At the beginning, its entire supply of weapons consisted of two revolvers, one light machine gun, 17 rifles and 14 flintlocks, some of them dating to the Russo-Japanese War of 1904-05, said Cecil B. Currey, Gen. Giap's biographer.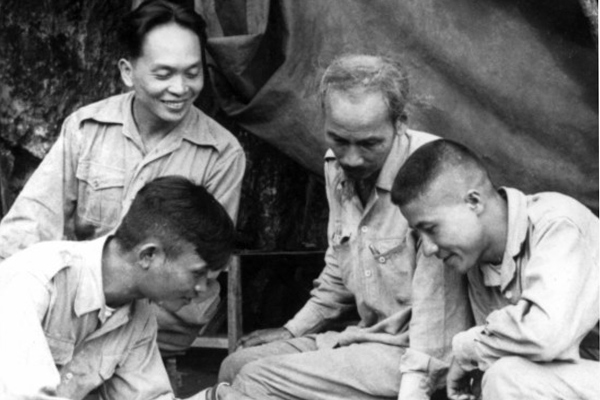 1950
Vietnamese President Ho Chi Minh, second from right, the founder of the Vietnamese Workers' Party, and Gen. Vo Nguyen Giap, background left, look over a military campaign in Vietnam. By August 1945, when the surrender of Japan ended World War II, Gen. Giap's army had 5,000 men, equipped with American weapons supplied by the U.S. Office of Strategic Services, the precursor of the CIA, to use against the Japanese who had occupied Vietnam.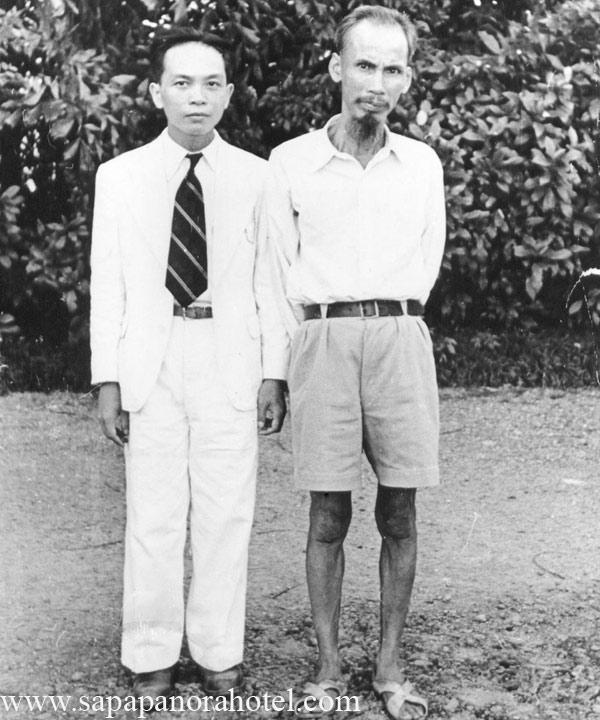 1950
Gen. Vo Nguyen Giap, left, poses with Ho Chi Minh. With Ho, who died in 1969, and former prime minister Pham Van Dong, who died in 2000, Gen. Giap was venerated in his homeland as one of the founding fathers of his country. To military scholars around the world, he was one of the 20th century's leading practitioners of modern revolutionary guerrilla warfare.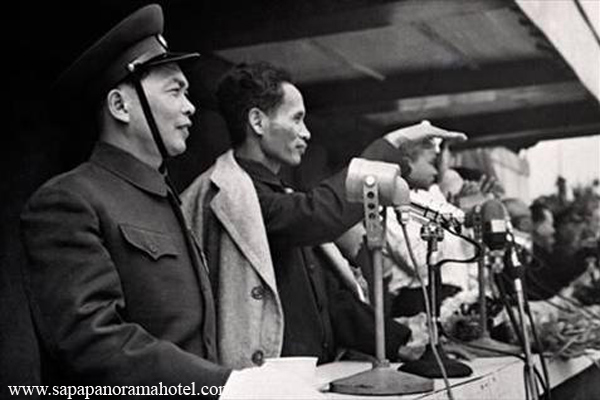 Jan. 15, 1955
Gen. Vo Nguyen Giap, left, and Vice Prime Minister Pham Van Dong attend the celebrations of President Ho Chi-Minh's return to Hanoi.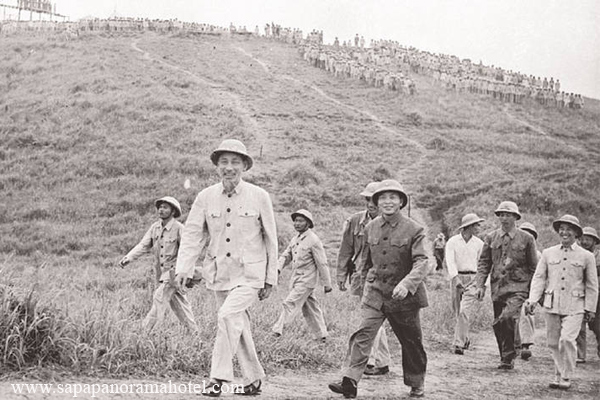 1957
Vietnamese President Ho Chi Minh, left, and Gen. Vo Nguyen Giap, second from left, visit an army unit at an unknown location in Vietnam.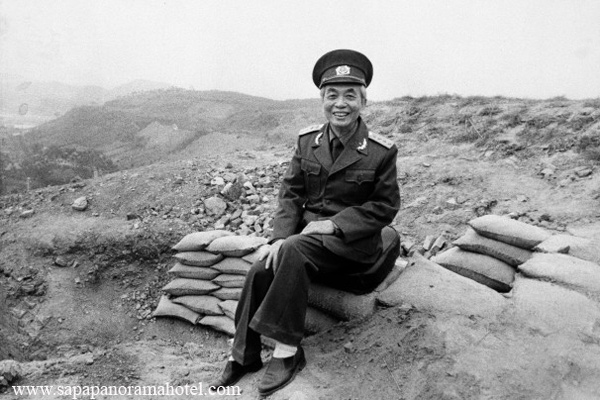 May 4, 1984
Gen. Vo Nguyen Giap sits atop of the remains of a French bunker at Dien Bien Phu, where the Viet Minh defeated France 30 years earlier. Throughout the late 1940s, Gen. Giap orchestrated hit-and-run operations against French forces, who returned to Vietnam after World War II to reclaim their colony. "Use the feint, the ambush, the diversionary outrage," he wrote in a training manual adapted from the Chinese Communist leader Mao Zedong. "The enemy may outnumber you ten to one strategically, but if you compel him to disperse his forces widely, you may outnumber him ten to one locally wherever".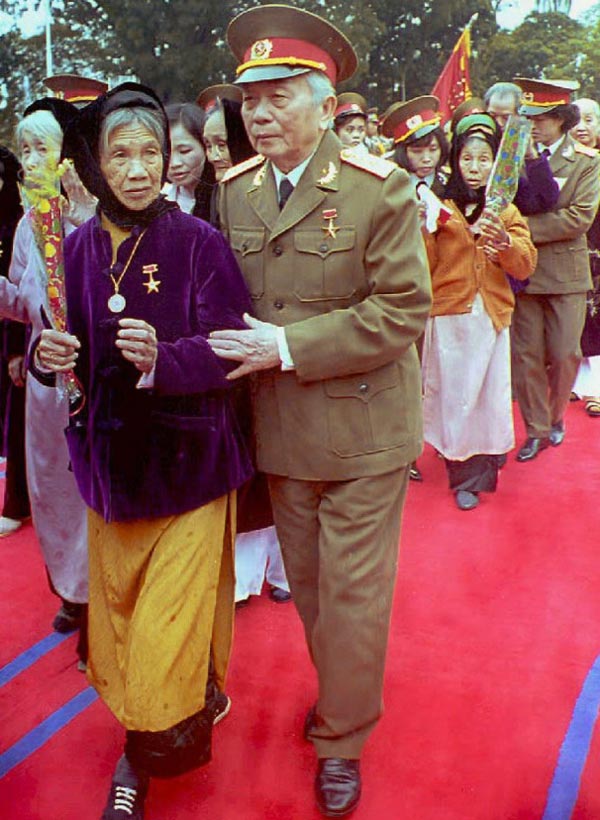 Dec. 19, 1994
Gen. Vo Nguyen Giap accompanies one of the 60 "heroic mothers" during a ceremony honoring mothers who lost family members during Vietnam's wars against France and the United States, at the Presidential Palace in Hanoi. More than 19,000 Vietnamese mothers nationwide were honored, many posthumously.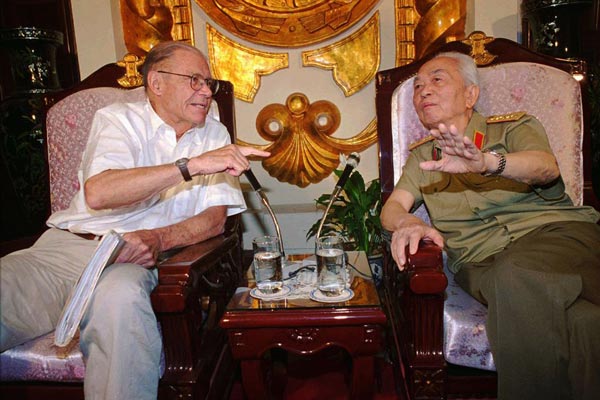 June 23, 1997
Former U.S. defense secretary Robert S. McNamara, left, speaks to his onetime foe Gen. Vo Nguyen Giap in Hanoi.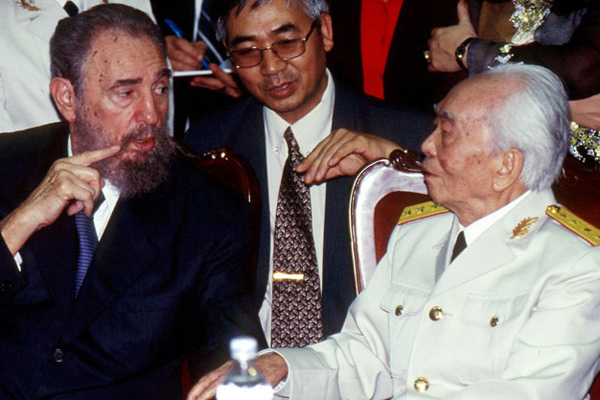 Feb. 22, 2003
Gen. Vo Nguyen Giap, right, greets Cuban President Fidel Castro at his house in Hanoi.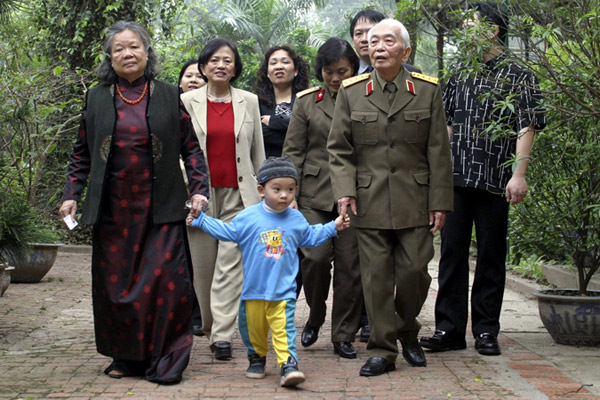 March 30, 2004
Gen. Vo Nguyen Giap walks with his family in his garden in Hanoi. In 1939, Gen. Giap married 1946, Quang Thai, a fellow member of the Communist Party, whom he had met in prison years earlier. In 1946, after the death of his first wife in French custody, Gen. Giap married Dang Bich Hai, the daughter of a former professor and mentor. They had two daughters, Vo Hua Binh and Vo Hahn Phuc, and two sons, Vo Dien Bien and Vo Hoai Nam.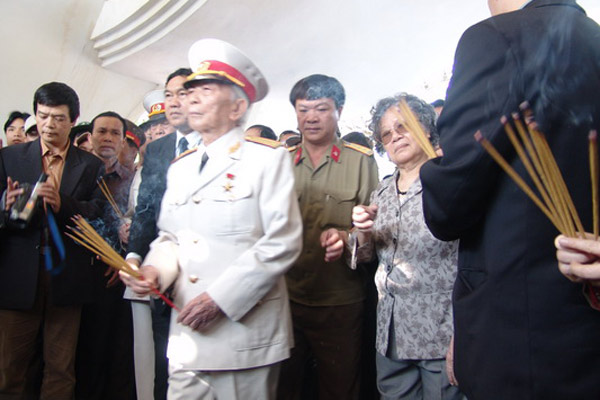 April 18, 2004
Gen. Vo Nguyen Giap, lays incense at a shrine at the cemetery in Dien Bien Phu, Vietnam, on the 50th anniversary of the Dien Bien Phu battle, when the Viet Minh army defeated the French on May 7, 1954 and ended French colonization of Indochina.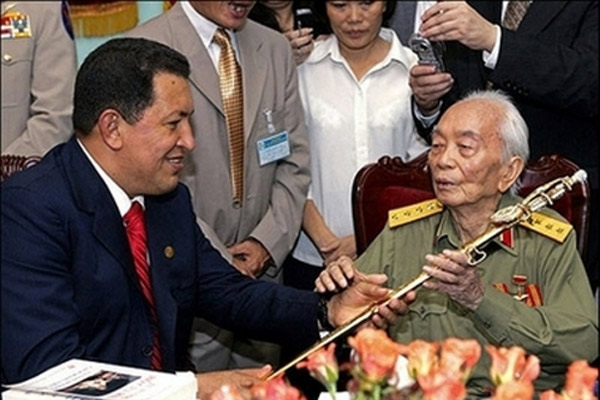 Aug. 1, 2006
Gen. Vo Nguyen Giap, right, receives a sword from Venezuelan President Hugo Chavez, left, at his home in Hanoi. The sword was similar to the one used by Venezuelan hero Simon Bolívar.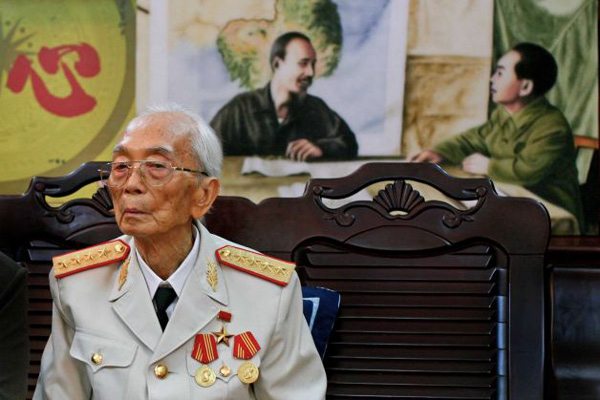 Aug. 25, 2008
Gen. Vo Nguyen Giap stands in front of a painting of himself and Vietnamese President Ho Chi Minh at his home in Hanoi on his 97th birthday. Gen. Giap was born Aug. 25, 1911, in the province of Quang Binh in an area of central Vietnam, which, with Laos and Cambodia, was then part of the French protectorate of Indochina. He died Oct. 4 in a hospital in Hanoi, a government official told the Associated Press. He was 102.