Mountain Bike For Rent in Sapa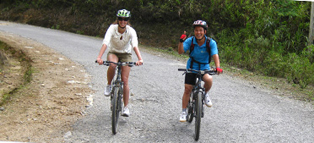 Sapa Panorama Hotel & Travel offers many mountain bikes with European standard, different sizes for rent. We are proud to be the biggest provider for biking equipments in Sapa. As a local tour operator, we fully understand the local minority and geography to make your trips fun, exciting, challenging and rewarding for experienced touring cyclists.
We generally use LA and TREK 4500 mountain bikes as they have high quality, durable pieces of equipment. However, we also use others kind of bike depending on the grade of the tours and places. Please be advised that a certain frame model is not guaranteed.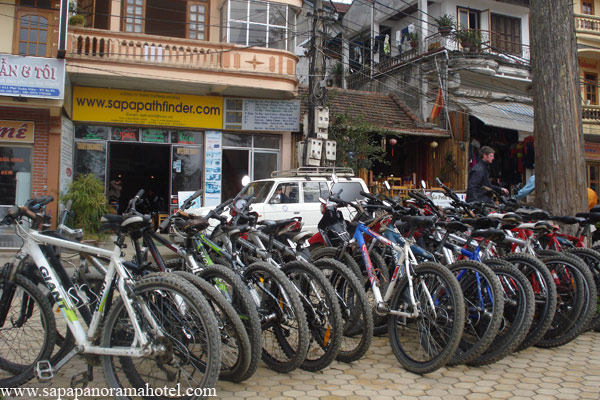 We prefer the Trek mountain bike as it has been special designed to deal with different types of road and riding. Even on a our road trips, the asphalt can often be broken or potholed, and there are usually unsurpassed sections included, so mountain bikes are the most suitable. The bike has 24 and 27 gears, which you can change easily when padding up hill or down trails.
As the case of soft cycling in the country side, where the road is paved and flat, we general use simple Japanese pushed bikes.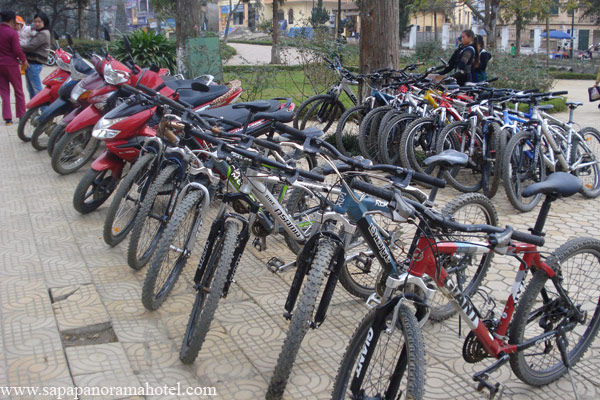 Bike Sizes and Rental Price:
We provide mountain bikes on all our tours (except Tibet). Available sizes are 15"(38cm), 17"(43cm), 19"(48cm), and 21"(53cm). If you normally ride a mountain bike you simply need to tell us its size. If you are not sure, have a look at the table below for our suggestions. If in doubt it may be a good idea to visit a bike shop and try a few mountain bikes to find a comfortable size.
Height
Bike sizes
Price per bike ($US)
Less than 1.62m (5'4")
15"
1 full day rental
US$ 12
1.62m (5'4") - 1.80m (5'11")
17"
1.80m (5'11") - 1.88m (6'2")
19"
1/2 day rental
US$ 6
Over 1.88m (6'2")
21"
Please register with us today, let us prepare the journey for you! Please call to
Mr. Quyet: (+84) 916.72.57.87
, or by sending us an email:
info@sapapanoramahotel.com
to make a reservation with the best price!