1 Day Bac Ha Sunday Market Tour
Destination:
Tour code:
Duration:
Start from:
Stop off:

Bac Ha market, Ban Pho village, Trung Do village, Chay River, Laocai Border Gate.
SPTEM001
01Day
Lao Cai
Lao Cai or Sapa

Bac Ha market is the bigest ethnic market in the Northern Part of Vietnam. It often takes place on Sunday of weekly. This highland culture market is a living museum of cultural and community activities, where still contains plenty of ethnic culture with unique customs and regional traditions. For this market you have an opportunity to meet several minorities such as Flower Hmong, Black Dzao, Nung, Phu la and Tay ... You can talk to the ethnic minorities through the guide's interpretation.
Click price to book tour
Detail information
Depart from: Sapa Town or Lao Cai station
1 Day Bac Ha Sunday Market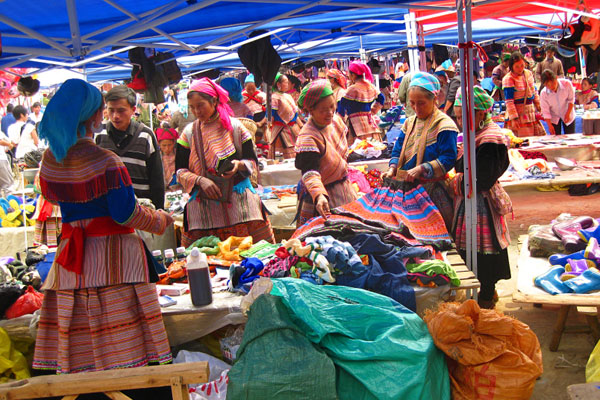 1 Day Bac Ha Sunday Market
You will arrive Lao Cai train station by 6h30 when you get picked up and taken to the restaurant nearby for breakfast and some break time, Leave for Bacha Market after your breakfast. The road is relatively flat from Lao Cai to Bao Nhai bridge. After crossing the bridge, we begin our journey up to Bac Ha. Bac Ha market, located in the heart of Bac ha small town is the largest one in the area.

Every Sunday, the different and colorful ethnic minority come all here to sell their homemade products or buy something for the family. They are Hmong, Phu La, Back Dzao, Tay or Nung minorities. Some of these ethnic minorities can't be met in any other areas. Free time for visiting one of the most colourfull market in the world. At the market, you have chance to enjoy BacHa people's simple but unique kinds of food with special wines made from rice, cassavas, corn and different sorts of fruits such as plumps, apples, peaches... talking to the minorities through the guide's interpretation. After lunch leave the market for visiting the H'mong King's house (King Hoang A Tuong) built by the French colonists and the Chinese in 1920, short walking to see BanPho village where is homeland of flower Hmong.
In the afternoon, we drive downhill towards Lao Cai. We stop on the way (before reaching Lao Cai) to take a short walk to Trung Do village inhabited by Tay people. Tay villages are always set up at the foot of a mountain or along a stream and are named after a mountain, a field, or a river. Each village contains about 15-20 households. A large village is divided into many small hamlets. The houses are built on stilts or level with the ground. Stop by a traditional Tay house for a cup of tea before taking a boat cruise upstream the Chay River. The scenery is very beautiful on both sides of the river. The boat trip will end at Bao Nhai bridge where your vehicle will be waiting for you for the journey back to Lao Cai. On the way back, drop in to see the Vietnamese and Chinese Harbor Mouth in LaoCai. Transfer to station for overnight train back Hanoi or up to the romatic mountain town - Sapa .Tour ends in Sapa by 6PM.
Stop off: Lao Cai or Sapa
Breakfast, Lunch,
English-speaking guide,
Entrance fees,
Transfer from Lao Cai station or from Sapa to Bac Ha market - Lao Cai station - Sapa.
OTHER TOURS IN THIS CATEGORY